Antibiotics for Cold, Flu and COVID-19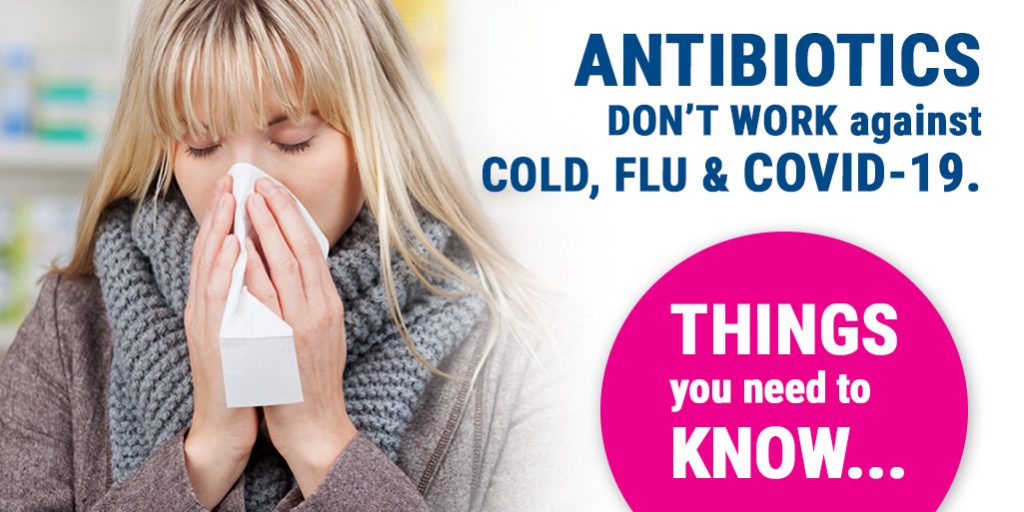 Antibiotics for cold, flu and COVID-19 do not work
Antibiotics treat bacterial infections. Colds, COVID-19 and the flu are viral infections, so antibiotics won't help. Using antibiotics when you have these illnesses can lead to the development of antibiotic resistant bacteria.
There are a few ways to help prevent colds, flu and COVID-19
Wash your hands with plain soap for 20 seconds
Get your COVID-19 vaccine and annual flu shot
Stay home when you are sick
Visit the BCCDC website for more information on preventing COVID-19
How can I treat colds and the flu?
The best way to recover from a cold or flu is to drink plenty of fluids, get rest, and give your body time to do its job.
Do I have COVID-19?
If you experience any of these symptoms, stay home and contact your healthcare provider. You may just have a cold or the flu but stay home to keep others safe. Here is a link to the BC COVID-19 Self-assessment Tool. 
Symptoms of COVID-19 include new or worsening:
Fever or chills
Cough
Loss of sense of smell or taste
Difficulty breathing
Sore throat
Loss of appetite
Runny nose
Sneezing
Extreme fatigue or tiredness
Headache
Body aches
Nausea or vomiting
Diarrhea
COVID-19 symptoms can range from mild to severe. Sometimes people with COVID-19 have mild illness, but their symptoms may suddenly worsen in a few days.
Go to an urgent care clinic or emergency department if you:
find it hard to breathe
have chest pain
can't drink anything
feel very sick
feel confused
Resources