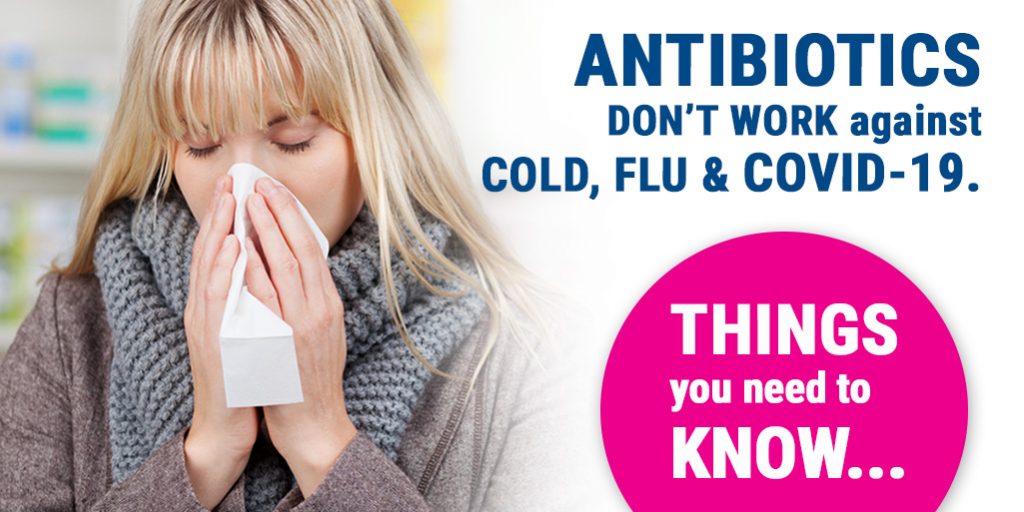 You cannot treat colds, flu and COVID-19 with antibiotics
Antibiotics treat bacterial infections. Colds, COVID-19 and the flu are viral infections, so antibiotics won't help. Using antibiotics when you do have these illnesses can make you resistant to them when you do need them.
There are a few ways to help prevent colds, flu and COVID-19
Wash your hands with plain soap for two minutes
Get your flu shot
For COVID-19: keep your social distance 6ft
For COVID-19: wear a mask
For COVID-19: limit social gatherings to six people
How can I treat colds and the flu?
Colds and flu mend when you drink plenty of fluids, get rest, and give your body time to do its job.
Do I have COVID-19?
If you experience any of these symptoms, stay home and contact your healthcare provider. You may just have a cold or the flu but stay home to keep others safe. Here is a link to the BC COVID-19 Self-assessment Tool.
Common symptoms:
Less common symptoms:
aches and pains
sore throat
diarrhea
conjunctivitis
headache
loss of taste or smell
a rash on skin, or discolouration of fingers or toes
Serious symptoms:
difficulty breathing or shortness of breath
chest pain or pressure
loss of speech or movement
Resources